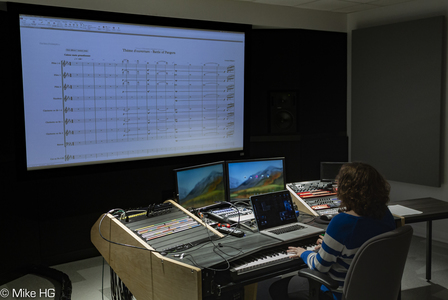 Student in composition with André Cayer, Maxime Goulet and Benoit Groulx and in sound design with Thierry Gauthier, Corinne Philippon develops a versatility in different musical styles. The professional and innovative training of the Université de Sherbrooke's School of Music has allowed her to develop an effective working method and a deep musical and melodic sense. Corinne is able to independently create and direct many projects for film or video game music.
Analyst and organized soul, Corinne loves music for video games. She enjoys composing in a more instrumental style, but she is also passionate about descriptive music.
Audio - Originals Soundtracks
Portfolio
Battle for Pangora - Partial OST
The Chronicles of Marble - OST
For more details, click here.
Video - Originals Soundtracks
Video games
The Chronicles of Marble
Underrated Resistance : Space Scrap
Sky Shepherd
Short films & animations
Expo spirituoscientifique
Le Voisin d'en Haut
Cauchemar
Origami
Video - Music and sound design Fan Score
---
© All rights reserved Corinne Philippon - © Photos by Mike HG and Jonathan Landry Photographie - Website design by Félix Giffard